Corporate Projects
You can experience "work on location" with front line companies and professionals.
What are corporate projects?
In collaboration with the front line companies and professionals, we train students through "corporate projects." This prepares them to become professionals with concept presentation skills, creative abilities, demonstration skills, and communication skills desired by the industry. Students polish their practical skills through assignments that include real work experience, such as developing products and creating company-sponsored musicals and concerts. Students of our schools work on many corporate projects, starting from the 1st year.
Brief Overview of Corporate Projects

[Project1] Won Grand Prize in Moss Card Design Contest!
■Moss Card Design Contest
Company: Mos Food Service Co., Ltd.
Mrs.Deng won the grand prize in the Moss Card Design Contest of Moss Food Service Co. The designed Moss Card was actual issued in limited quantities.

【Project 2】Received the Best Design Award in a big project competed by the world's best car design schools!
■Car Design: Ferrari Project
Corporate project by: Ferrari S.p.A. in Italy
Corporate projects for the car design course are world-wide affairs. The biggest of all was the Ferrari Project in 2005. The design brief was to create a proposal for the "next-generation eight-cylinder midship engine/12-cylinder front engine Ferrari with new and exciting style, features, exterior and interior." Ferrari selected four design institutes from all over the world to participate, and TCA was chosen to represent Japan at the competition. TCA's designs received the "Best Design" award, the "Best School" award and the "Best Female Team" award. Award winners were given internships and the chance to be employed by Ferrari.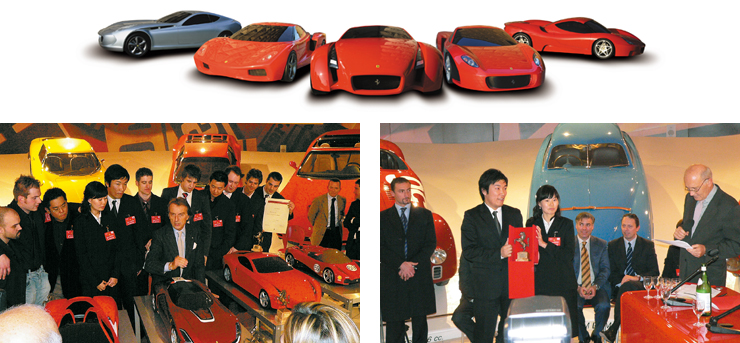 【Project 3】Original musical created by students that has attracted more than 120, 000 spectators.
■Bone Marrow Transplant Campaign Musical "Gateway to Tomorrow"
Recommended by: The Ministry of Health, Labor and Welfare. Sponsored by: Masako Natsume Himawari-kikin Foundation and Japan Marrow Donor Program.
What can we do to help those suffering from leukemia...? Our students explored this question by creating an original musical, "The Gateway to Tomorrow." The musical, sponsored by Masako Natsume Himawawri-Kikin Foundation and the Japan Marrow Donor Program and co-sponsored by over 150 companies, is recommended by the Ministry of Health, Labor, and Welfare. There have been over 100 shows performed all over Japan, and it has attracted over 120,000 viewers since the first performance in 1994. Students are proud to be a part of this musical, whether as an actor, dancer, a member of the wind orchestra or gospel group, stage production staff, or as a lighting engineer, planner, manager, or make-up artist.

[Project 4] Winner in the siphon coffee category! Advance to national competition!
■UCC Coffee Masters 2019 Kyushu Competition
Company: UCC Ueshima Coffee Co., Ltd.
Mr. Oii won the first prize in the famous competition where professional baristas also compete. As a representative of the Kyushu region, she participated in the national competition held in Kobe.