Student Service Center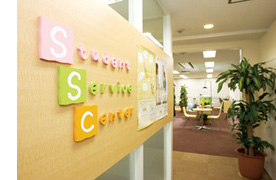 We ensure patient confidentiality, so you can comfortably talk to us.
You can talk to us about any problems with your school life!

If you are unable to talk to your family or friends about your problems, Student Service Center (SSC) is there for you. Patient confidentiality is strictly observed, so feel free to discuss anything with us.
Click here for booking SSC councelling
These people will support you
■Lessons … principal/vice principal, educational department manager, educational advisor, homeroom teacher
■Finding employment … career center, educational advisor
■School fees … accounting department
■Health management … affiliated clinic
■Other problems … Student service center, affiliated clinic

Support for your concerns about classes and your career
Reliable homeroom teacher system
At the Jikei Group, in addition to the instructors, we also have homeroom teachers to support the students.
Each class has their own teacher, who will support you from enrollment to graduation.