Learning about Living in Japan
The first thing that students considering studying in Japan want to know about is the cost of living.
The cost of living in Japan is very high compared with other countries around the world.
I'd like to come to Japan as an international student, but… How much is food? How much does it cost to ride the train? How much does it cost for a place to live?
We would like to introduce some of the main costs of living that everyone wants to know about.
Look here and imagine what life in Japan would be like.

Currency and Prices in Japan
The currency of Japan is the yen.
Banknotes come in 4 denominations: 1,000 yen, 2,000 yen, 5,000 yen, and 10,000 yen.
Coins come in 6 denominations: 1 yen, 5 yen, 10 yen, 50 yen, 100 yen, and 500 yen.
Credit cards are convenient and the number of users has increased rapidly in recent years.
Credit cards can be used for shopping, making payments at the post office, and paying for meals and public utilities.

Groseries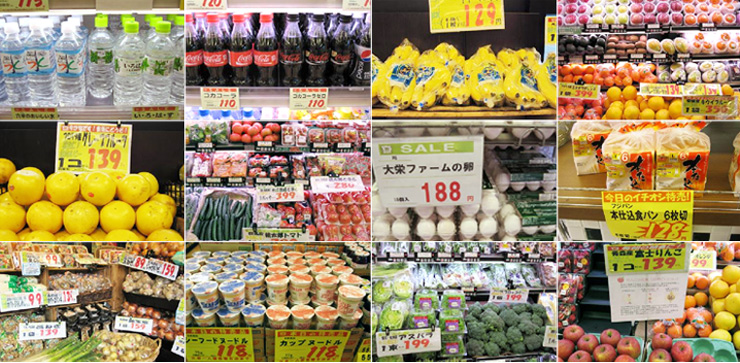 Prices at supermarkets in Tokyo
| | | | |
| --- | --- | --- | --- |
| Rice (5kg) | 1980 yen | Mayonnaise | 228 yen |
| Bread | 128 yen | Flour(1kg) | 238 yen |
| Milk(1000ml) | 198 yen | Sugar(1kg) | 198 yen |
| Eggs(Carton of 10) | 188 yen | Bottled Water(500ml) | 105 yen |
| A banana | 129 yen | Coca-Cola(500ml) | 110 yen |
| An apple | 139 yen | Toilet Paper | 248 yen |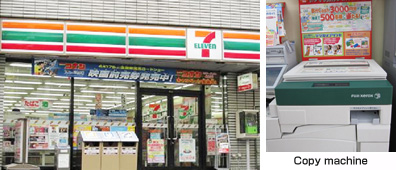 Convenience Stores
Convenience stores operate 24-hours a day, allowing customers to shop there at any time of day. Most convenience stores also have copy machines as well as ATMs where people can pay their public utilities. Convenience stores are a great help for people living alone.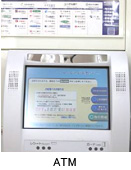 Convenience Store ATMs
Most convenience stores have ATMs (Automated Teller Machines). ATMs are very convenient because customers can make withdrawals or transfer funds without needing to go to the bank.

100 Yen Shop
The 100 Yen Shop is one store that is easy on the wallet, even in an expensive country such as Japan.
At the 100 Yen Shop, students can find inexpensive and useful items such as daily necessities, storage containers, dishes, and cooking implements. Students can make good use of the 100 Yen Shop to save money.
"This product is 100 yen!"      
Commuting Expenses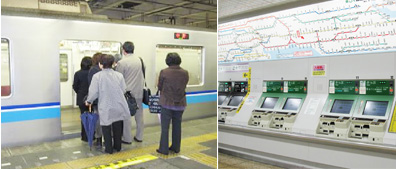 Train
Lowest Fares
Tokyo Metro 180 yen / TOEI Subway 210 yen / JR East Japan 140 yen
(Varies from area to area)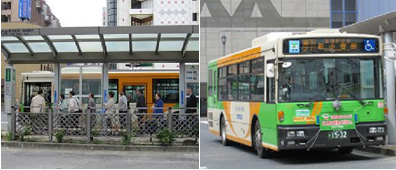 Bus
TOEI bus(metropolitan bus) fare is a flat rate of 210 yen.
(Varies from area to area)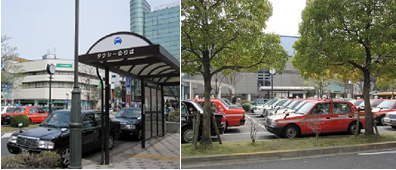 Taxi
410 yen per 1,052 meters
(Varies from area to area)
Rent
Average rent in the Tokyo Metropolitan Area is around 70,000 yen.
However, in addition to the regular rent, there are generally 3 types of fees when moving into an apartment: security deposit, key money, and the real estate agent fee. On average renters need to pay about 3 or 4 months rent. Also, utility fees are not included with rent in Japan. In most cases, furniture and appliances are provided with apartments. Moving into an apartment can cost a lot of money.

■Security Deposit
A security deposit is a deposit given to the landlord when a new tenant first moves into an apartment. The security deposit is held as collateral against non-payment of rent or maintenance. The deposit is also used to pay for changing the wallpaper and other renovations when the tenant moves out. The remaining amount is returned to the tenant. Be advised that landlords may make additional claims if there is damage to the apartment such as holes in the walls.

■Key Money
Key money is paid to the landlord when moving into an apartment. The payment is considered a token of gratitude and the entire amount is nonrefundable.         
■Real Estate Agent Fee
The real estate agent fee is paid to the real estate agency when moving into an apartment.
Living Expenses
Monthly living expenses for international students will differ from area to area, but students will need at least around 100,000 yen. The table below shows the monthly expenses for a current student living in Tokyo.
Income
| | |
| --- | --- |
| Money received from family | 100,000 yen |
| Part-time job | 32,000 yen |
| Total | 132,000 yen |
※International students receive 100,000 yen from their families on average.
Expenses
Rent
63,000 yen

An studio located close to the school.
Rents will be lower for an apartment located farther away from the school. However, students should be aware that commuting expenses may be more expensive.

Electricity
3,500 yen
Utility expenses, such as electricity and gas, will vary considerably depending on the season. Think about your level of comfort in the summer and winter. You can save money by using the air conditioning or heater just a little less.Be careful as well not to use too much water when taking showers.
Gas
2,500 yen
Water
2,500 yen
Food
30,000 yen
Shopping at convenience stores or eating out is easy, but using your rice cooker is best both for your body and your budget. Making the best use of groceries can go a long way toward saving money.
Cellular Phone
3,500 yen
Internet Provider
4,500 yen
Purchasing household appliances through internet auctions and other means is recommended.
Other expenses
7,000 yen
Daily expenses and commuting expenses
Total
116,500 yen
Balance: 15,500 yen
Working part-time
Over 80 percent of international students work part-time while studying at college. However, international students are in Japan for the purpose of studying. Neglecting one's studies by working part-time should be avoided. The hourly rate for part-time work in the Tokyo Metropolitan Area ranges from 800 yen to 1200 yen per hour.
International students need to obtain permission from the school and permission from the regional immigration authority to engage in activities other than that permitted by status of residence to work part-time. The number of hours students may work part-time has been set by the Japanese Immigration Bureau. (See below.) Make sure that the number of hours you work does not exceed these limits.
International students who have permission to engage in activities other than that permitted by status of residence may work up to 28 hours a week.
(During extended breaks, students may work 8 hours a day.)
※Students who work part-time without permission or exceed the number of permissible working hours are subject to penalties or deportation.