Student Dormitories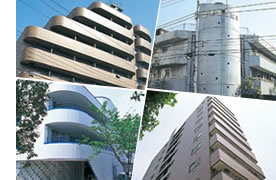 Don't worry about living by yourself in Japan!
You will feel safe, having your own room in our private dormitories!

You may have worries about living in Japan alone for the first time and being away from home. To help you feel safe and get settled in Japan, we have private dormitories for our students located near the schools. We are sure that living in the dorms will help you to concentrate on your studies.
Click here for further information
Benefits of living in the dormitories!
●Dormitory headquarters will support you 24/7

All of our dormitories are located in areas that are easy to live in and close to the schools. You can have a comfortable and relaxing time on your days off. Also, as the dorms are supervised 24 hours a day, you can get a help in case of emergency.

●Support for living alone for the first time

In the event that you are sick, our resident dormitory supervisors will take care of you. Those dormitories where students cook their own food and have no supervisor on-site will be supported by a "lifestyle advisor". Security is strictly enforced, with access limited to authorized residents and family members.

●You can make many new friends.

As there are students of other Jikei Group colleges staying in the dormitories, you will be able to make friends with students studying in other fields. We hold events (including a welcome party), so there are many opportunities to make friends!

●Economical prices.

Because the dormitories are for Jikei Group students' exclusive use, the usual fees for renting an apartment (such as key money) do not apply. If you call us, you can make an appointment to tour the dorms at any time. To apply for a room, just fill in the application form and send it to us. It's easy!

●Ample facilities.

Each room is equipped with a bath, toilet, kitchen, air conditioner, refrigerator, phone, bed, table, shoe locker and light fixtures. All you need to bring is your bedding and everyday items!
Questionnaire about Dormitory
Dormitory
5 minutes by bicycle
No homesick, friendly dormitory leader makes the atmosphere like at home.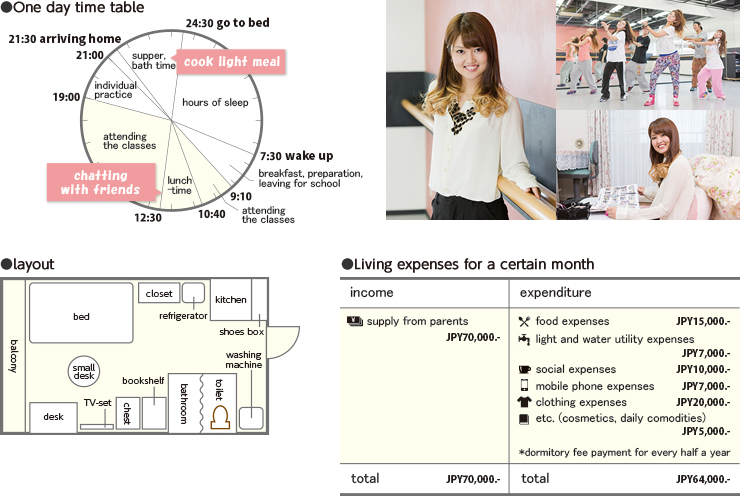 Dormitory
10 minutes by bicycle
Nutritious meals served in the dormitory will make our energy.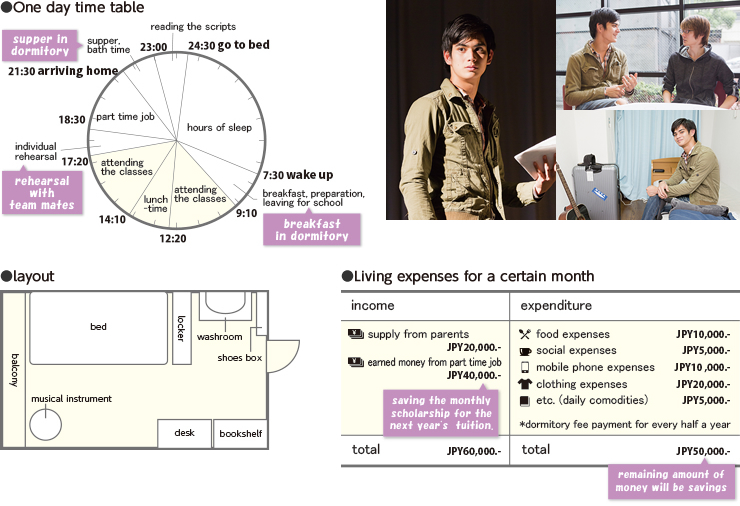 Type of Dormitory
1. with dormitory leader - meals served
Tokyo area
Osaka area
2. with dormitory leader - self cooking type
Tokyo area
3. self cooking type
Tokyo area
Osaka area
Dormitory FAQ
Q: Will I be able to make friends quickly?

A : Absolutely! We hold a welcome party after everyone arrives at the dorm, so you can meet other new students and your senior students. You don't need to worry as you will become friends by spending time together at school and at the dormitory.

Q: Can I spend a night away from the dorms?

A : Yes you can, however you have to let us know by midday the day before and hand in a notice of absence.

Q: When are the dormitories closed?

A : The dormitories are closed for approximately 10 days, three times a year in spring, summer and winter.

Q: Can I get a part-time job?

A : Yes you can, as long as you keep 11pm curfew and you have enough time to study.

Q: Are there any additional fees other than the room and food costs?

A : You only need to pay for your electricity and phone bill. Otherwise, there are no extra costs.

Q: To enter the dormitory, is a guarantor necessary in the same way as the cases as rent a room in apartment house?

A : When you enter the dormitory, a joint surety is required. Please list up another person whom you listed up as the contact person. The person who act as surety does not necessarily have to be residence in Japan.