Annual Events in Japan
October: Kannazuki
The tenth month of the lunar calendar is called Kannazuki. This was a common name in the days when people lived according to the waxing and waning of the moon. According to folklore, all of the gods throughout Japan gathered in the Izumo region of Japan and held a meeting. As a result, other regions were emptied of gods. This period was called 'Kannazuki,' or the month of no gods. Conversely, in the region of Izumo, this time is called 'Kamiarizuki,' or the month when all gods are present.
Why do the gods gather in Izumo?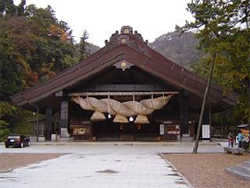 The region of Izumo is known as the region of gods and region of myths. The center of Izumo is Izumo Daisha, where the chief gods of the country reside. These gods are well known as the gods of marriage, but are also the gods who cultivated the territory of Japan, creating the basis for the lives of the people; agriculture, fishing, and production.
It's said that the gods gather in Izumo to give advice regarding the fate of humanity and marriage.
Izumo Festival
On the evening of the tenth day of the tenth month of the old Japanese calendar, Shinto rituals and the Kamimukae festival are held to welcome all of the gods of the country in Inasanohama, which is not far from Izumo Taisha. From the eleventh day to the seventeenth day a meeting called Kamuhakari is held. In it the fate of humanity, marriages between men and women and other matters are decided. During this time, the festival of Kamiari is held at Kaminomiya, which is near to Inasanohama. On the final day, the seventeenth, the farewell festival known as Karasade is held.
The Name of the Lunar Months
| | | | |
| --- | --- | --- | --- |
| January | 睦月(Mutsuki) | July | 文月(Fumizuki) |
| February | 如月(Kisaragi) | August | 葉月(Hazuki) |
| March | 弥生(Yayoi) | September | 長月(Nagatsuki) |
| April | 卯月(Uzuki) | October | 神無月(Kannazuki) |
| May | 皐月(Satsuki) | November | 霜月(Shimotsuki) |
| June | 水無月(Minazuki) | December | 師走(Shiwasu) |