Shinjuku
What is Shinjuku like?
Shinjuku is the leader in lifestyle and fashion trends not only in Tokyo, but all over Japan. It is so important, if you haven't been to Shinjuku you can't say that you've been to Japan at all! From skyscrapers to downtown areas, old family stores and new shopping malls, Asia's dreams are all contained within Shinjuku. Although at the cutting edge of the times, a walk beyond the skyscrapers reveals nature in the form of Shinjuku Gyoen, where you can relax your heart and mind.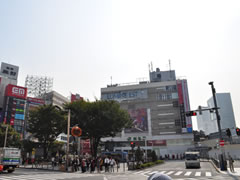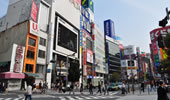 Shinjuku ALTA
Shinjuku ALTA was made famous by the Fuji TV program, "Waratte Iitomo". It is not an exaggeration to say that Japanese fashion spreads from here! Please try to visit Shinjuku ALTA sometime.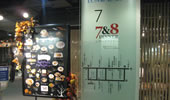 FOOD Lumine EST - 7&8 DINNER
Lumine EST's "7 & 8 Dinner" is located on the 7th and 8th floors and is directly accessible from the Shinjuku Station East Exit. There are 24 different restaurants where you can have lunch or dinner.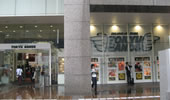 Tokyu Hands Shinjuku
Tokyu Hands is located in Times Square, which can be seen from the south exit of Shinjuku Station. The store stocks the largest range of lifestyle products, from topical items to long-selling items.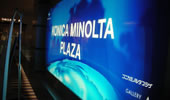 Konica-Minolta Plaza
Konica-Minolta Plaza is located at the east exit of Shinjuku station. There are three galleries in the building that hold exhibitions full of originality. The building is open every day (except special holidays) and entrance is free! Please go and visit when you are in Shinjuku, as there are always many exhibitions and events being held.
Akihabara
What is Akihabara like?
Akiba (short for Akihabara), is a world-famous sightseeing spot! It contains the largest number of electronics shops in Japan and there are numerous hobby shops and anime shops as well. It is also unrivalled for the number of Maid Cafes, which are very popular. At the northern end, there is a new facility called Akihabara Cross Field, which has industry-related projects and office supplies. Nearby, a new Yodabashi Camera store has also opened, changing the face of Akihabara.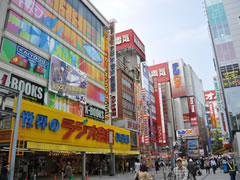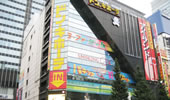 Don Quixote Akihabara
Don Quixote is famous for having the cheapest discount stores in Japan! Everything is cheap! They have a wide variety of products! Anything you want - they have it! There are many things here that will help you know more about Japan! Get your cosplay costumes here!

Maid Cafes
Maid Cafes are synonymous with Akihabara! These "maids" are not only popular with the Akihabara geeks but also with tourists from around the world, who come to relax at these cafes. Why don't you go and visit one, too?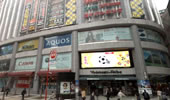 Yodobashi Camera Multimedia Store Akihabara
The Yodobashi Camera store in Akihabara is huge! Buy all of the appliances and software you need here!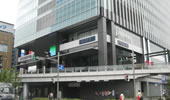 LEISURE Akihabara UDX
UDX is located in the Akihabara Cross Field, a facility where you can find the Tokyo Animation Centre, event galleries and theatres. There are events on almost every day, making it one of the most popular places right now.